Back on top of time management! In Private Jet
Since 1986 thousands of clients have put their trust in AB Corporate Aviation.
We respect their confidentiality. So as a picture is worth a thousand words, here is one of their private Jet charter flights told as a cartoon.
When business is going fast and you have to be everywhere at once, who has not dreamed of owning his own Private Jet, always available, ready to take off on a simple call and able to take you where you need to go to return to you when you must be there.
Well, this dream is now at your fingertips! Indeed, on AB Corporate Aviation's private Jets charter flights, you are the big boss: you inform us of your desires and constraints and we take care of your "tailor-made" flight.
In this episode "Back on top of time management!" from our "Customer Experiences" section, read how Mr. Martin has been able to meet the demands of his President and the Board members.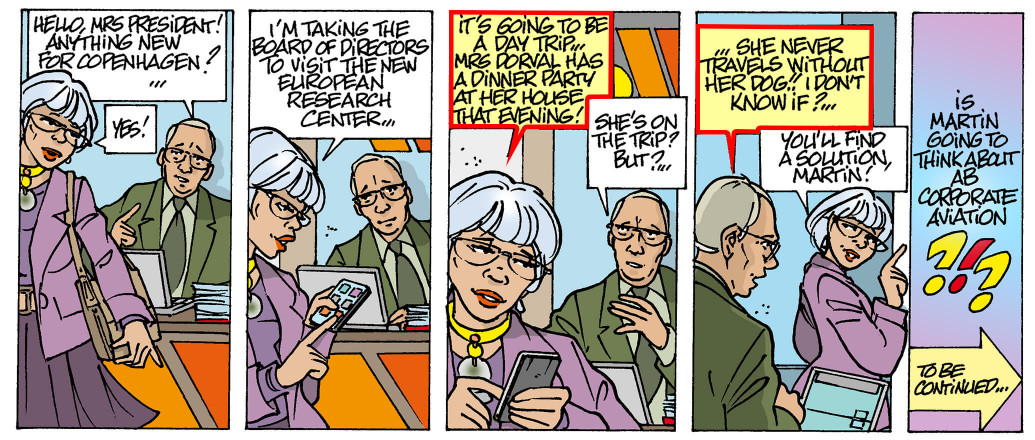 Benefits in this episode
It's going to be a day trip, Madame Dorval has a dinner party at her house that evening.
What might be impossible to envisage with normal means of transportation becomes reality with AB Corporate Aviation. Why? Simply because you don't have to adjust to pre-established schedules and destinations. You decide when you take off, your itinerary (you can choose the closest airport to your meeting point) and the ideal time to make the return trip. You therefore minimize the time lost traveling, which, like in our story, allows you to be in Copenhagen in the morning and in Paris at a dinner party in the evening to welcome your guests.

Benefits in this episode
We need to take off at 8:30am at Paris Bourget, no time to wait for boarding, no long hallways, excellent. So, we'll leave our place just an hour before takeoff!
Forget long waits in line to check in or to go through security or customs. With AB Corporate Aviation, WE are the ones who wait on you. As soon as you arrive at the airport, a few minutes are enough to finalize the last details and board your private plane, already prepared to take off. Consequently, you reach your destination fresh and available to take on the business challenges of the day.

Benefits in this episode
Martin managed things well, what comfort, what time savings for everyone!
Our aircraft, genuine flying offices, are designed to allow you to work in peace and quiet, far from indiscreet eyes and eavesdroppers. It's the ideal place to prepare your next presentation, alone or with your team, assess the situation regarding an important meeting or plan your next day's schedule. Your trip will therefore be perfectly optimized, which will save you lots of time; you'll gain in efficiency and better work quality.
The visit ended on time; in any case, our plane was waiting for us, super!
Nobody will leave without you! We are at your service and the aircraft will wait for you as long as necessary *. But on the contrary, if your meetings end a little earlier than expected, there again, no problem. Just inform us and we'll plan for an earlier departure. It's as easy as that! Thanks to AB Corporate Aviation, you get back on top of your time management. * Subject to the necessary permissions to execute the flight, including airport opening hours.