Winning across the board! In Private Aircraft
AB Corporate Aviation's Comic strip.
Since 1986 thousands of customers have put their trust in AB Corporate Aviation. Here is one of their Ad-hoc Private Aircraft Charter flights told as a cartoon.
Because you need to act quickly, because your constraints and needs change, charter a Private Aircraft makes your travel easier.
Whether you want to make several stops, confirm at the last minute who will be travelling with you, or modify the time of your take-off, charter a Private Aircraft gives you more flexibility in your trips, at an affordable cost.
Find out how by reading this episode "Winning across the board!"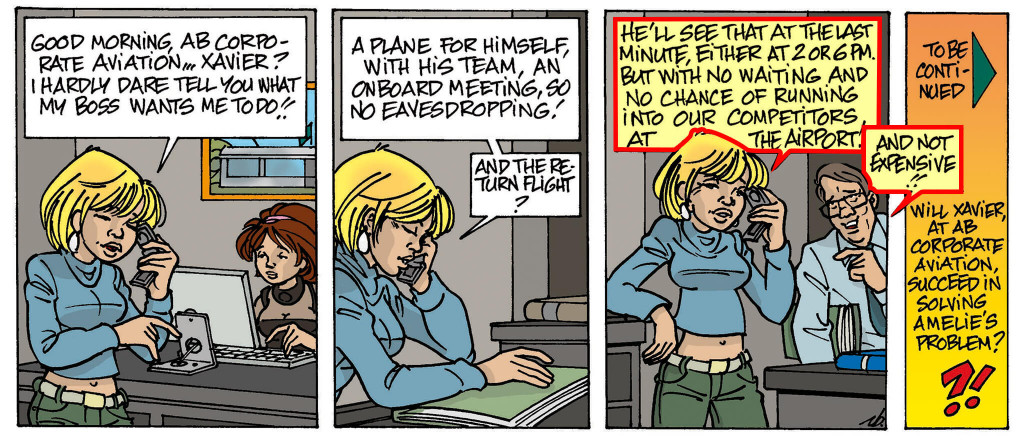 Benefits in this episode
He'll see that at the last minute, eithet at 2 or 6pm. But with no waiting and no chance of running into our competitors at the airport.
You schedule is hard to set? We adapt. Your meeting ends earlier than planned? No lost time, we'll move your time of departure forward. Stuck in traffic? No stress, or missed flights, or stays overnight on site. Our business aircraft will wait for you. It is at your disposal and AB Corporate Aviation's team manages take-off times based on your schedule. You board through a special terminal, with simplified formalities, no waiting. In the private lounge, and inside the plane made available by AB Corporate Aviation, you feel at home, with the people you have chosen to be with. You can relax or work in total confidentiality. As for your competitors, you won't run into them. You'll be landing while they'll still be back at the check-in counter with the other passengers for the regular commercial flights. All the others!
And not expensive.
Time is money. AB Corporate Aviation is a tool at your disposal to save time. A lot of time. So, money, lot's of money. It's logical: no subscription, no direct interest, no need to be a shareholder. You just need to make a call. Try it! It doesn't cost anything and it can pay off in a big way.

Benefits in this episode
What comfort!
Comfort, a luxury? At AB Corporate Aviation, we think that first and foremost, comfort is a terrific arm to help you win. You can't run the 100-yard dash with shoes too tight. And no one has ever seen a champion spend a night out the evening before a decisive competition. That's why, even one of our most economical business planes is at least as comfortable as the top of the line business class. And in addition, the service can be personalized to your tastes; it's you who decides, for your own greater comfort and for maximum effectiveness. Try it.

Benefits in this episode
We'll work it out, we're already arriving! feeling great!
When leaving one of our private flights, you won't have the impression that you're getting off a plane. You'll be leaving a private, air-conditioned meeting room in which you'll have been able to prepare your day in peace and quiet: You'll be in top form. As for your competitors, they're a bit more nervous: after hours of waiting, they were able to board the commercial airline flight; and once on ground, they'll have the choice between public transit and two hours in a taxi. They haven't seen the end of it yet!
Excellent, there's never a problem with xavier. I'm sure that if I call back to say 7:30 it'll be all right!
Because our profession is to solve problems for you. And it is not by chance if for more than 20 years now, company leaders, for both large and small businesses, government officials, famous people and those less well-known, all call on AB Corporate Aviation: It's because we have been reliable for more than 20 years, 24/ 7. Try us.